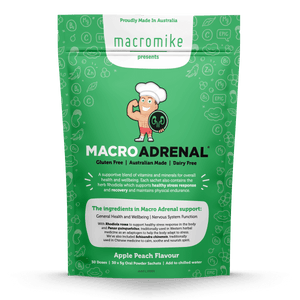 Containing a potent blend of plant-based amino acids, brain boosters, vitamins, creatine and plant-derived natural caffeine, Macro Mike 100% Natural Pre Workout is designed to enhance your focus, endurance, energy and performance!
If you've ever taken a pre-workout before, you'll likely be aware of the strong energy hit that makes you feel on top of the world, which is closely followed by an equally strong energy crash. While the initial benefits might seem worth it, the artificially manufactured caffeine is actually placing additional and unnecessary stress on your central nervous system and cortisol levels, which can be counterproductive in the long-run. The solution? Macro Mike 100% Natural Pre Workout!
Let's take a closer look at what's inside. 100% Natural Pre Workout contains plant-derived essential and non-essential amino acids to help enhance muscle endurance, strength and resilience by increasing nitric oxide levels and blood flow. The amino acids found in this formula may also help reduce muscle fatigue, allowing you to train harder for longer. Additionally, the formula also contains creatine, which is one of the most heavily researched and scientifically proven supplements owing to its ability to help improve strength, muscle recovery and lean muscle mass.
But that's not all. Where your performance is concerned, it's not just your muscles that need to be primed. Your brain also needs a boost to ensure your drive and focus is prepared to meet your physical capability. 100% Natural Pre Workout contains a cocktail of ingredients that help to increase levels of neurotransmitters, dopamine, adrenaline and norepinephrine to help diffuse the negative effects associated with high levels of stress placed on your body during exercise.