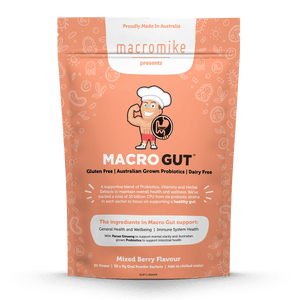 Did you know that your gut is responsible for breaking down the food you consume and absorbing the nutrients required for every essential function in the body, including energy production, hormone balance, mental health, immune health and toxin/waste elimination? So, if we want the rest of our body performing at it's best, it's important to first get our gut health in check.
Designed to take the guesswork and confusion out of maintaining a happy tummy, Macro Mike Gut Doctor is an all-in-one wellness supplement loaded with healthy bacteria strains, herbs, vitamins, and minerals to promote optimal gut health. So, what's the secret? Gut Doctor contains a nourishing blend of your guts favourite ingredients - from probiotics and prebiotics to essential vitamins and wellbeing boosters, this daily multivitamin is designed to help soothe and restore your gut to its former glory days.
Prebiotics play an important role in maintaining colon and gut health. Good gut bacteria convert inulin into short-chain fatty acids, which in turn nourish colon cells. Additionally, Gut Doctor contains seven strains of the most extensively researched and clinically supported probiotics to deliver the ultimate gut health-enhancing formula.
Need a boost? Ginseng has been intentionally added to the formula owing to its ability to strengthen the immune system, reduce fatigue, increase brain function and minimise stress. Likewise, B6 helps to convert food into energy and B12 helps to reduce fatigue. Let's talk vitamins. Vitamin D is known as 'the mood booster' and has been added to the formula to help improve intestinal absorption of essential nutrients and to maintain brain and body health and vitamin C is 'the regeneration booster' as it helps to regenerate antioxidants and minimise inflammation in the gut lining.