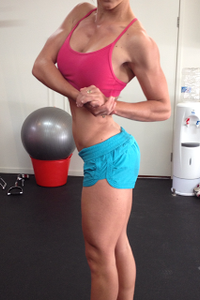 11 WEEKS OUT: A bad case of food poisoning
After talking cardio with Luke he has now got me doing 30 minutes cardio first thing in the morning (5 days a week) after my lemon water and 'dirty sock' water. The type of cardio I am doing is low impact/intensity and is outside in the fresh air which is great not having to go to the gym. Luke also still wants me to keep be doing 20-30 minutes cardio after ever weight session (5 days a week).
Monday: I'm up at 5am to do my 30 minutes cardio and absolutely loved my refreshing morning walk. Mondays are my day off because I don't get home till 8 and need to prepare for the next day.
Monday night:
 I woke up in the middle of the night terribly sick and couldn't hold any foods or liquids down. My partner and my family were also really sick and we narrowed it down to a bad case of food poisoning from a breakfast place we ate at in the Gold Coast the previous weekend.
I took the next day off work sick and didn't train all week. Once again Luke came up with a quick fix solution and made us eat charcoal to help with our stomach and drink apple cider vinegar, not knowing how bad it was going to taste I skulled it in the car and can honestly say that this drink tops it over my 'dirty sock water' I give it a 20 out of 10 for tasting HORRIBLE. I'm not sure if I'm just unlucky but since I met luke I have definitely been tasting the most horrible kinds of liquids, it makes my plain diet sound amazing!
At the end of the week I ended up losing 3kg due to lack of eating and being able to keep anything down. I only got one day in of morning cardio and one session in at the end of the week so you can imagine that I'm feeling pretty soft and like I'm falling behind in my preparation. In saying this I'll be trying my best not to let it get to me and I'll start at it again at the beginning of week 10! Nothing will stop me from getting to the gym ;)
Miss Mass out! EmJ xxx