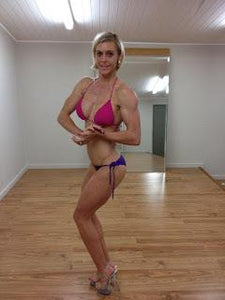 5 4 3 Weeks Out
5 Weeks out:
I never thought this day would come but FINALLY… I have finished my last ever teaching prac and don't have to work for free anymore! What an inconvenience university can be on training, eating and sleeping lol… I'm so glad it won't come between us (me and the gym) anymore! Because I finished my prac I was able to catch up on some much needed sleep this week and concentrate solely on my training, cardio and posing (which is slowly coming along).
At my last assessment with Luke he decided that my food intake needed to come down to 100g of protein with most meals instead of 130g. Changing this amount got the results we were after and I managed to drop down to 61.7kg with 9.8% body fat (so I lost 1.1kg and 1% bf from the previous week). My calves came down too this week thankfully and all it took was a bit of extra sleep J
Training is still the same at this stage; 30 minutes every morning, weights in the afternoon followed by another 30 minutes cardio.
4 weeks out:
With 4 weeks to go I am so surprised that I am feeling AWESOME! My energy levels are still through the roof and mentally I feel as though I'm the best I've ever been before! I absolutely love every minute of my prep.
I changed up my training schedule this week, not because I was bored - I just wanted to mix it up a bit and try working different muscle groups together.
Monday: Back and Tri's (super-sets), 
Tuesday: Chest and Bi's (supersets), abs 
Wednesday: Legs (heavy)
Thursday: Shoulders/Traps (super-set), calves 
Friday: Legs (HIT)
Saturday: abs, calves, shoulders 
Sunday: Cardio
I am still doing morning cardio sessions but now they are for 45minute long instead of 30minutes and still at a low-moderate intensity.
I noticed a difference in my training this week; I'm not sure if it's normal to increase your strength this close to comp but I was feeling so much stronger and focused through all my sessions. I even managed to move up in weights with all my shoulders and back exercises.
Once again I was so nervous to see Luke for my weekly assessment because I knew I hadn't lost any weight. I did get in a little bit of trouble (not really) when I told Luke my weight but putting on 200g of muscle made up for that! I am now sitting at 61.7kg with 9.4% body fat with more muscle??So strange, but extremely happy with that, no wonder why I was feeling stronger in the gym!
Because I'm doing WFF figure (class 1) this means I need to be at 57kg for my height. At the moment I am still sitting at 61.7kg, so you can imagine with around 3 or so weeks to go I'm starting to get a little worried that I won't be able to make that weight. However, Luke knows all and doesn't seem worried. He suggested that I have 2 fat free days per week over the next couple of weeks to get the extra kg's off. He also dropped one of my meals down to 90g of protein
3 weeks out:
On Saturday and Sunday I went without my essential fats (besides my omega3's). Basically all I ate for those two days where my lean meats (mostly chicken, kangaroo mince and lamb) and green vegies - no flavour, nothing! For breakfast I just had my blueberries and kangaroo mince without the nuts. I think I may possibly be the strangest person ever because I really enjoyed these two days!
This week I also just started up my new PT Business, and things have been incredibly busy. I managed to get in a few great sessions but had to take a couple of days off training to fit everything in (most importantly to spend some time with my man). It's crazy how having two days off weight training can be such a mental game; I was feeling so soft when I went into see Luke for my weekly assessment.
Even though I was feeling soft, those fat free days definitely worked - after my recent Biosignature Assessment with McNally I am now at 58.5kg and down to 8.4% body fat. I managed to drop 3.2kg in just over a week and 1% bf. I was so shocked but thrilled with the results. My calves are still my downfall and according to Luke if they were where he wanted them to be in regards to percentage then I would be at 4% bf… damn calves, lol!
At the 15 week out mark the skinfold for my quad started at 21mm and is now at 11.8, my hammy's started at 22mm and are down to 11mm and that's the same for my calves too!
I never in a millions years would have thought that it was possible for my legs to get this lean, it's so exciting seeing all the little changes every day and looking at photos from 15 weeks ago.. Whatever happens on comp day, win/no win or even last place, I'll still be so happy with the results I never thought I could get and the whole preparation leading up to show day!
EmJ 
xx