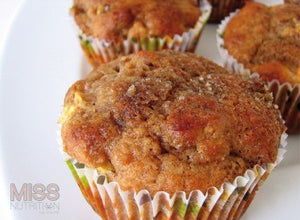 A.M. Power Apple Muffins Recipe
Ingredients
Non-stick organic olive oil spray
3 egg whites
1 cup of all natural Stevia sweetener
1/2 cup organic brown cane sugar
1 cup unsweetened apple sauce
1 teaspoons vanilla
2 cups rice flour
1 cup vanilla protein powder
2 teaspoons ground cinnamon
1 teaspoon baking soda
1/2 teaspoon salt
4 cups peeled, sliced organic apples (golden delicious work well)
Directions
1. Preheat oven to 350 degrees.
2. Spray cake pan or muffin pan with non-stick organic olive oil spray. Set aside.
3. In a large missing bowl, beat egg whites with electric mixer until slightly foamy.
4. Add all natural Stevia sweetener and brown sugar. Beat well.
5. Add applesauce and vanilla.
6. Put together the dry ingredients in a large separate bowl. Mix well.
7. Add dry ingredients to wet ingredients. Mix well.
8. Place apples in the bottom of the pan.
9. Pour batter over apples.
10. Bake 30 to 40 minutes in oven or until toothpick comes out clean
*Great as a post workout snack due to the carb content.