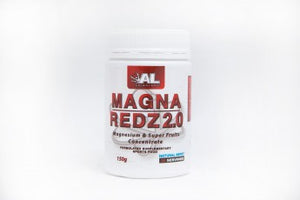 Aminologic: Magna Redz 2.0
Who desperately needs a good nights sleep? I know I always look forward to hitting the pillow, because my days are jam-packed! Sometimes it's hard to settle for the night due to busy lifestyles and late night training sessions, but with Aminologic's Magna Redz 2.0 handy, you can say goodbye to restlessness and hello to a well-deserved sleep.
Ever since I've been drinking Magna Redz 2.0, I have been sleeping through the night and feel refreshed when I wake up in the morning. My body feels relaxed and my muscles don't feel as sore as they should.
Joshua Watkin, owner of Mass Nutrition Kawana and Mooloolaba says: "Since supplementing with Magna Redz 2.0 I have experienced a quality of sleep that I didn't think was possible. My night time routine includes 10g of Magna Redz with 5g of Aminologic Phytologic mixed in with icy cold water 1 hour before bedtime. By the time I've jumped into bed I'm knocked out."
This magnesium and super-fruit combo will help:
Muscle relaxation
Relaxation of blood vessels
Bowl functions
Control of blood sugar levels
Adenosine triphosphate (moves chemical energy within cells for metabolism)
If you're noticing the following signs, then you most likely have a magnesium deficiency, but check with your local GP to be certain.
Muscle spasms
Loss of appetite
High blood pressure
Tiredness
Vomiting
I'm not a fan of swallowing huge horse tablets, but with Magna Redz as a powder, it dissolves easily and doesn't create lumps.
5g is all you need to have a great nights sleep, and if taken consistently you should feel better within a week.
For the ultimate good feeling, consider combining Magna Redz 2.0 and Phytologic 2.0. Morning and night doses help with sleep and kickstarting your day. You will begin to feel invincible and incredibly energised!
Aminologic has created one tasty flavour of natural berry, which tastes delicious. This supplement comes in two sizes:
150g for $34.95
450g for $79.95
Mass Nutrition stocks Aminologic. If you're a Sunshine Coast local like myself, Mass Nutrition Kawana and Mooloolaba will look after you.
For more supplement reviews and fitness blogs visit Pump Fiction.