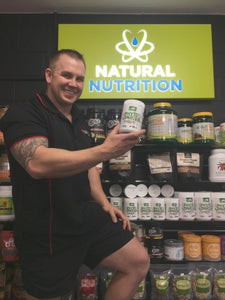 Aminologic: Phytologic 2.0
Lean, mean, and green are three words you'll achieve when drinking Phytologic 2.0 from Aminologic. The majority of us don't have time to create a balanced diet with all the essential fruits and vegetables – that's why we have supplements to help us along the way. However, by adding Phytologic 2.0 into your daily diet it will increase your stamina and make your body feel superhuman.
Phytologic 2.0 comes in two tasty flavours:
Cranberry
Sweet Pineapple
I'm sure you're wondering how a healthy green drink could possibly taste good? Since broccoli, brussels sprouts and beans aren't very appealing. Phytologic 2.0 has a combination of:
A Green Superfood Blend
A Super Fruit Blend
An Omega Fiber Blend
A Vitamin and Mineral Blend
Don't worry about holding your nose and cringing at the flavour, because this product tastes like a delicious juice. I have been drinking the pineapple flavour for two weeks and have found my sleep cycle has improved, I wake up feeling energised and I'm ready to take on the challenges the day offers. Before drinking the green goodness, I found myself unenthusiastic in the mornings and would have to force myself out of bed, but after adding Phytologic 2.0 into my diet I kick the covers off and bounce out of bed feeling positive and fresh.
The scientific benefits behind the super green drink are:
The recommended serving size is 10g mixed with a glass of water or juice and consumed once daily. I drink it on an empty stomach half an hour to an hour before my breakfast shake and so far, over the last two weeks it has worked wonders for my body and I feel alive again.
In every 10g of Phytologic 2.0 there are:
2.3g of Protein
0.9g of Fat
3.7g of Carbs
If you're counting your macros, bare in mind that each serving has 33 calories, which isn't much considering you're drinking fundamental fruits, vegetables and fiber in one drink – equaling to around five minutes prep and drinking time.
Phytologic 2.0 comes in two sizes:
300g for $59.99 (was $69.99)
600g for $99.99 (was $119.00)
If you're not sure that you'll like this product, head down to your nearest Mass Nutrition store for a sample. Customer satisfaction is important and we want you to be happy with your product, there's nothing worse opening your product and not being happy with your purchase. Of course, results aren't going to magically happen overnight, however, take it consistently for a week and you'll start to notice a difference in how your body performs.
Purchase online for all your supplement needs from the Aminologic collection with free shipping for orders over $150.00.
Product rating:
Taste: (Pineapple flavour) 8.5/10
Performance: 10/10
Value: (300g) $1.99 per serve 8/10
Overall: 8.8/10
For more supplement reviews and fitness blogs visit Pump Fiction.