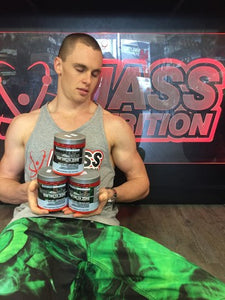 BPM Labs: The Delta Zone
We all love sleep after a hard days work, however, how many of us are actually getting a good nights sleep? If you're constantly waking up through the night and finding that you're restless, chances are you'll wake up feeling like you haven't slept at all.
Luckily BPM Labs have created a supplement that helps with sleeping and if your days are jam-packed then this is the ultimate supplement for you.
BPM Labs The Delta Zone has the ability to enhance:
Sleep
Mental alertness,
Libido and sexual performance
Energy
Mood
Work performance
Muscle mass
Leanness
This product is the go to if you want to start feeling better throughout your day. Forget about buying different products and combining them yourself. The Delta Zone will help you sleep at night as well as increase your energy levels and that's all in one product too.
Ladies, if you're lacking in the libido area this product also helps stimulate that stubborn sex hormone of testosterone, unfortunately some of us don't produce enough for an enhanced sexual drive. The Delta Zone has D-Aspartic acid in it, which helps with the problem and you're guaranteed a decent sleep afterwards.
Serving sizes are 1 scoop (10g) to 8oz of water, 30 minutes before bed. I'd recommend halving the scoop for daytime use to kick-start your mental alertness and concentration for the day.
If you're a calorie counter this product would be in your favour. With 0 KJ you can drink this without hesitation or having to enter it into your calorie app.
The Delta Zone comes in two great flavours:
What ingredients are in this magical supp?
Korean Kimchi extract: Useful for calming the body and regulating the internal body rhythms. If you're hyper and can't settle then this ingredient will help.
L –Arginine: Helps produces natural growth hormone.
L-Phenylalanine: After long intense gym sessions, sometimes our bodies need help in relaxing. This ingredient helps to relax your body and encourage sleep.
Phenibut: This calms your body, but doesn't have a sedative effect and also encourages the natural growth hormone.
Mucuna Pruriens: Helps create lean muscle mass by increasing your dopamine levels.
The Delta Zone has many other beneficial ingredients that all work together to provide you with the best sleep possible.
BPM Labs are that confident with the results they're offering your money back should you be dissatisfied.
"In summary if this is not the best sleep formula you have tried, we will give your money back! Trust BPM Labs once again to push the boundaries of sleep deprivation." BPM Labs.
Personally, I like the Pineapple flavour and I found I had a great nights sleep. However, while it does aid sleep, I found I was visiting the bathroom more because I drank liquid before bed. The next night I tried with less water than the recommended amount and slept through the night with no troubles.
Basically, it's a trial and error process. What works for me, may not work for you. But we will be able to agree on the results of an awesome nights sleep!
Don't experience another terrible nights sleep. Get your sleep-deprived hands on The Delta Zone today and join in on the great nights sleep. Purchase online here or at your nearest Mass Nutrition store for $74.95. Don't forget if you're a sunny coast local like me, Mass Nutrition Kawana and Mooloolaba will help with all your sleep troubles.
Product rating:
Taste: 7/10 (Pineapple)
Performance: 9/10
Value: 5/10 ($2.49 per serve)
Overall: 7/10
For more supplement reviews and fitness blogs visit Pump Fiction.