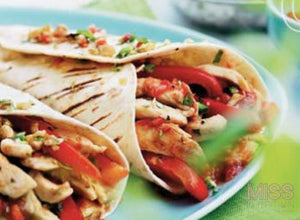 Chicken Burrito Recipe
Ingredients
2 slices red onion
1/4 red capsicum, sliced
1/4 green capsicum sliced
2 Tbsp. fresh corriander, chopped
1 portion cooked chicken breast (120gm women, 150gm men)
1 (8 inch) brown rice tortilla, or 1 Ezekiel wrap
2 Tbsp. salsa
1 Tbsp. light sour cream
Directions
1. Lightly coat a medium skillet with organic olive oil cooking spray and place over medium heat.
2. Add onion, capsicum and corriander; sauté until the vegetables soften, 5-6 minutes.
3. Slice chicken and add to skillet, sauté approximately 3 minutes until heated through.
4. Microwave tortilla for 10-15 seconds to soften.
5. Place chicken mixture on flat tortilla.
6. Wrap the tortilla around the filling and cut in half.
7. Use salsa and sour cream for dipping.
8. Enjoy!