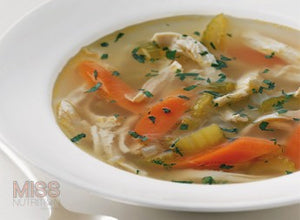 Chicken Vegetable Soup Recipe
Ingredients
2 Tbsp. olive oil
1 onion, chopped
4 carrots, peeled and chopped
2 parsnips, peeled and chopped
4 celery stalks, chopped
3 bay leaves
1/2 tsp. ground black pepper
12 cups fat-free, reduced sodium or unsalted chicken broth
2 cups water
2 lbs. chicken breast cut in bite size pieces
1/4 cup fresh parsley, chopped
2 Tbsp. fresh dill, chopped
Directions
1. Heat oil in a large pot over medium heat.
2. Add chopped onion and sauté for about 4 minutes.
3. Add carrots, parsnips, celery, bay leaves, black pepper, chicken broth and water.
4. Bring to a boil.
5. Add uncooked chicken pieces to broth and bring back to a boil.
6. Remove bay leaves, and then stir in parsley and dill.
7. Ladle a portion (about 2 cups) of soup into each bowl.
8. Serve and enjoy!