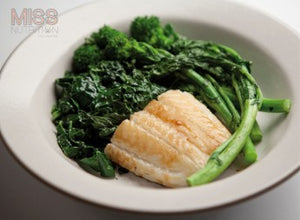 Citrus Barramundi Recipe
Ingredients
2 tablespoons olive oil
1/4 cup fresh orange juice
1 tablespoon orange zest
1 teaspoon crushed red pepper flakes
Salt to taste
Freshly ground black pepper to taste
4 x 150-200gm Barramundi fillets (or your favourite white fish) rinsed and patted dry.
Directions
1. Preheat oven to 400 degrees.
2. Combine the olive oil, orange juice, orange zest, red pepper flakes, salt, and black pepper in a shallow baking dish.
3. Add the Barramundi and coat both sides of fillets with the seasoning.
4. Bake 10 to 12 minutes until fish is done.
5. Serve with 1 cup broccoli or asparagus and a small side salad with 1 tablespoon olive oil and vinegar.