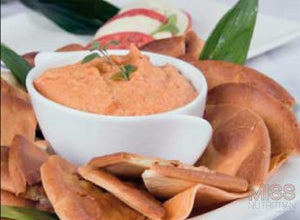 Creamy Salsa Dip Recipe
Ingredients
1 cup low-fat cottage cheese
1/2 cup salsa
1/2 cup fat-free / sugar-free plain yogurt
1 jalapeno, seeded and chopped
2 cups fresh vegetables of your choice
2-8 inch brown rice tortillas or Ezekiel wraps
Directions
1. Preheat oven to 400 degrees.
2. Blend cottage cheese, salsa, yogurt and jalapeno in a food processor or blender for 30 seconds.
3. Cut each tortilla into 12 wedges and place on a baking sheet.
4. Bake for about 7 minutes until lightly browned.
5. Divide dip into 2 equal portions and place in 2 small bowls.
6. Surround each with a portion of tortilla chips and half of the fresh vegetables before serving.