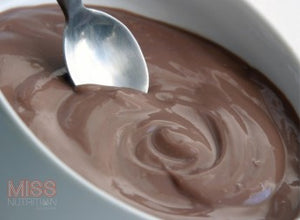 Double Chocolate Protein Pudding Recipe
Ingredients
1 cup cold organic skim milk
3 scoops of Chocolate Whey Protein Powder
2 Tablespoons of fat-free, sugar-free instant chocolate pudding mix
Directions
Time: 20 to 25 minutes
1. Pour skim milk in blender. Add Chocolate Whey (or chocolate whey of your choice) and blend on medium for 15 to 30 seconds.
2. Add the pudding mix and blend on high until you have desired consistency (about 30 to 45 seconds). You might have to stop the blender once to scrape the sides to blend properly.
3. Scoop desired amount into bowl or dessert cup and chill in refrigerator for at least 20 minutes.
4. Serve and enjoy!