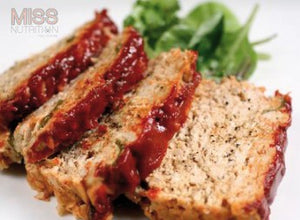 Everyday Meatloaf Recipe
Ingredients
1 kg lean ground turkey, sirloin, or beef
1 small onion, chopped
4 egg whites
1 cup salsa
3/4 cup old-fashioned gluten free oats, uncooked
1 packet Vegetable Soup mix
1/4 tsp. ground black pepper
1/2 cup low sugar ketchup
Directions
1. Preheat oven to 350 degrees.
2. In a large mixing bowl, combine meat, onion, egg whites, salsa, oats, soup mix and black pepper.
3. Form into a 9" x 5" loaf pan and spread ketchup over top.
4. Bake in oven for 60 minutes.
5. Serve with a side of fibrous vegetables if desired.