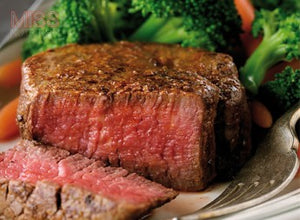 Filet Mignon Recipe
Ingredients
2 portions filet mignon, 2 inches thick
1 tsp. ground black pepper
1/2 lb. broccoli florets
small side salad
Directions
1. Preheat broiler.
2. Lightly coat a broiler pan with cooking spray.
3. Sprinkle filets with pepper on both sides and place on the broiler pan.
4. Broil filets 3 inches from the heat source for 4 minutes.
5. Turn the filets and cook about 3 more minutes for rare, 5 more minutes for medium and about 7 more minutes for well done.
6. While the filets are cooking, steam broccoli until crisp-tender, about 7 minutes.
7. Serve filet and broccoli with a side salad of your choice.