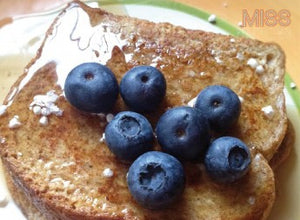 Fit French Toast Recipe
Ingredients
1 tbsp. vanilla whey protein powder
½ carton frozen egg whites
¼ tsp. cinnamon
20 slices Ezekiel bread
¼ cup sugar-free syrup
Directions
1. Lightly coat a large nonstick skillet with organic olive oil cooking spray and place over medium heat.
2. Place protein powder in a shallow bowl and slowly pour in egg substitute while stirring with a fork until smooth. The batter will be thick.
3. Sprinkle cinnamon on top of batter.
4. Dip on piece of bread in the batter and let it soak up the egg mixture for a few seconds.
5. Carefully turn the bread over to coat the other side.
6. Repeat with 2nd piece of bread.
7. Place bread in the skillet and spoon any remain batter on top.
8. Cook 2 to 3 minutes on each side or until golden brown.
9. Place French toast on a plate and serve with warm maple syrup.