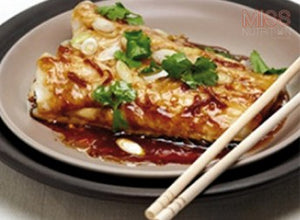 Ginger Fish with Healthy Sauce Recipe
Ingredients
Fish - Six- 150gm-200gm portions sea bass, halibut or any flaky white fish
Six- 1/4-inch-thick slices peeled fresh ginger sauce
1/4 cup minced peeled fresh ginger
1/4 cup chopped garlic
1/4 cup sesame seeds
2 tablespoons olive oil
2 tablespoons toasted sesame oil
1/4 cup reduced-sodium gluten free soy sauce
2-3 scallions, thinly sliced, for garnish
Directions
1. To prepare fish: Top each piece of fish with peeled ginger.
2. Bake @ 350, broil, or steam fish approximately 7 – 10 minutes, depending on thickness of fish, until firm. While fish is cooking, prepare sauce.
3. To prepare sauce, combine minced ginger, garlic and sesame seeds in a small bowl.
4. Heat olive oil in a medium skillet over medium-high heat.
5. Add the ginger mixture and cook, stirring, until fragrant, 1 minute.
6. Add sesame oil; allow the mixture to get hot.
7. Add soy sauce (be careful, it will splatter a bit) and cook for 1 minute more.
8. Transfer the fish to a deep platter.
9. Discard the ginger slices.
10. Pour the sauce over the fish and garnish with scallions.
11. Serve and enjoy!