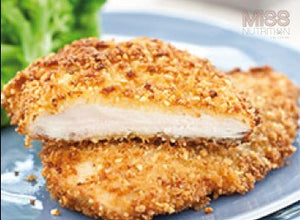 Healthy Baked Chicken Parmesan Recipe
Ingredients
2 egg whites
1/3 cup Ezekiel breadcrumbs (thaw bread and use food processor or blender to crumble) or ground gluten-free oatmeal.
4 tbsp. reduced – fat Parmesan cheese, grated, divided
2 portions boneless chicken breast
Directions
1. Preheat oven to 400 degrees.
2. In a shallow mixing bowl, beat egg whites until frothy.
3. Then mix bread crumbs or oatmeal, and 2 tablespoons of the parmesan cheese in another shallow bowl.
4. Dip chicken in egg whites and then dip in breadcrumb mixture, coating both sides evenly.
5. Lightly coat a baking sheet with cooking spray.
6. Place chicken breast on sheet and bake for 12 minutes on each side or until no longer pink in the center and coating is golden brown.
7. Place chicken on a serving plate and sprinkle with remaining cheese.
8. Serve with a vegetable of your choice and a small side salad.