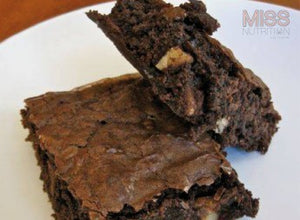 Healthy Brownies Recipe
Ingredients
1/2 cup rice flour
1/4 cup tapioca flour
1/2 cup granulated Stevia sugar substitute
1/4 cup unsweetened cocoa powder
1/2 tsp. baking powder
1/4 tsp. salt
1/4 cup olive oil
2 tsp. vanilla extract
6 egg whites, beaten
1/4 cup unsweetened applesauce
1/4 cup water
1/3 cup raw walnut pieces
Directions
1. Preheat oven to 350 degrees. Lightly coat an 8 x 8 baking dish with organic olive oil non-stick cooking spray.
2. In a large bowl, sift together, rice flour, tapioca flour, sugar substitute, cocoa powder, baking powder and salt.
3. In a medium mixing bowl, combine olive oil, vanilla extract, egg whites, applesauce and water. Pour mixture into flour mixture and stir until well combined.
4. Pour batter into baking dish and sprinkle with walnuts.
5. Bake until edges spring back when you touch them gently (centre will be soft), about 15 minutes.
6. Serve 1 brownie with a glass of your favourite protein powder mixed with water or skim milk.