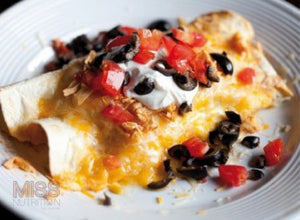 Healthy Chicken Enchiladas Recipe
Ingredients
4 portions chicken breast (120gm-15ogm each)
4 green onions, sliced
2 Tbsp. fresh cilantro, chopped
1 jalapeno, seeded and minced
3 cans red enchilada sauce
8 small brown rice tortillas
1 cup reduced fat Mexican or cheddar cheese, shredded
2 cups lettuce shredded
1/2 cup light sour cream
1 tomato, diced
1 can (2 oz.) black sliced olives
Directions
1. Preheat oven to 350 degrees.
2. Lightly coat a 9 x 13" baking dish with Organic olive oil cooking spray.
3. Place chicken breast in a pan of boiling water and cook until no longer pink, about 12 minutes.
4. Drain, set aside to cool slightly.
5. Shred chicken using 2 forks then set aside.
6. Sauté green onion, jalapeno, and cilantro in a lightly coated pan over medium-high heat, for 2 minutes.
7. Add chicken to pan and 1 can enchilada sauce.
8. Cook until heated through, about 4 minutes.
9. Pour the 2 remaining other cans of enchilada sauce in a medium sized bowl.
10. Dip each tortilla in sauce and fill with about 1/8 of chicken mixture.
11. Roll up and place seam-side down, in the baking dish.
12. Pour remaining sauce over enchiladas and sprinkle with cheese.
13. Bake until heated through and cheese melts, approximately 15 – 20 minutes.
14. Divide lettuce on four plates and place a portion of enchiladas on top.
15. Top with a dollop of sour cream, tomatoes and olives.
16. Serve and enjoy!