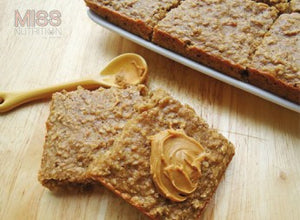 Healthy Nutrition Bars Recipe
Ingredients
2 ½ Cup Gluten free Oats (slow cook)
1 ½ Cups Chocolate Whey Protein Powder
1 Teaspoon cinnamon
2 Tablespoons organic peanut or almond butter
3 egg whites
2 mashed bananas OR ½ cup organic apple sauce
1 Tablespoon honey4 tablespoons organic skim milk
Directions
1. Preheat oven to 350 degrees and coat a cookie sheet with non-stick spray or olive oil.
2. Mix the oats, protein powder and cinnamon.
3. Add peanut/almond butter and stir until well combined.
4. Add egg whites, bananas, honey and milk.
5. Spoon the mixture, roll into balls and place on the cookie sheet.
6. Place in the oven for 15 minutes or until set (*Do NOT overcook!).
7. Remove from oven and allow cooling slightly before cutting into bars.
Approximate Nutrition Analysis:
One bar equals: 250 calories, 8 grams friendly fat, 25 grams of
carbohydrates, 4 grams of fiber, and 20 grams of protein.