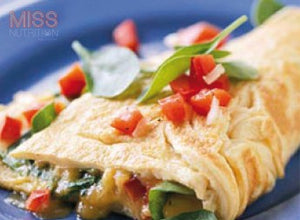 Lean Ham and Cheese Omelette Recipe
Ingredients
4 eggs (1 whole, 3 whites for women)
6 eggs (1 whole, 5 whites for men)
2-3 slices bacon (grass fed organic preferred)
sprinkle cheddar cheese
¼ wilted spinach and/or mushrooms if desired
Organic olive oil non-stick cooking spray
Directions
1. Spray pan with cooking spray, mix eggs together and pour into pan skillet pan over medium heat.
2. Sprinkle bacon and cheese over egg mixture, spinach and/or mushrooms if desired. Use sea-salt and pepper to taste.
3. Cover pan and cook until firm.
4. Fold omelette in half, plate and serve!