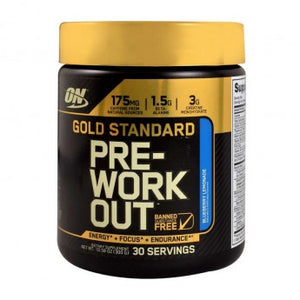 Optimum Nutrition: Gold Standard Pre Workout
I'm never happy with a pre workout and forever training out new products. Sometimes the ingredients affect my anxiety or I can't calm down and other times I get a surge of energy and then crash half way through my session. Most athletes depend on pre workout to annihilate a gym session, but because of the large variety on the market, finding the right one for your body is difficult.
What I look for in a pre workout is:
Energy
Alertness
No crashing
Muscle recovery
Focus
Strength
The chances of experiencing all that in a pre workout are slim. However, the good news is Optimum Nutrition has developed a new formula for their pre workout, which includes all the points and having tried this product for the last few weeks, I can safely say I have found a pre workout that works well and allows you to continue on with your day because you don't crash!
What are the specifics?
375 mg of Acetyl-L-Carnitine HCI – is weight loss and mental alertness
250 mg of N-Acetyl-L-Tyrosine – essential amino acids to help repair your body
Muscle Matrix including 25 mg of AstraGIN – enhances the absorption of the ingredients
CarnoSyn Beta-Alanine – helps muscle recover, endurance, strength and performance
Gold Standard Pre Workout is illicit substance free, but still works great! Try it for yourself at Mass Nutrition or if you're a Sunshine Coast local like me Mass Nutrition Mooloolaba and Kawana is the place to be.
Most pre workouts have a minimal selection of flavours, and flavour is important if you have to drink it everyday. Optimum Nutrition offers:
Blueberry Lemonade
Fruit Punch
Green Apple
Pineapple
Watermelon
Personally I like the pineapple and green apple, both flavours explode in your mouth and taste amazing!
Many people don't enjoy the tingling feeling, but with Optimum Nutrition's pre workout, the tingles are not overwhelming and your energy levels are always at peak with no crashing.
I recommend getting your hands on a tub of this and experience a new and improved gym session. For 30 servings Mass Nutrition sells this for $34.95, which is a great price, because it works out to be $1.17 a serving. Bargain!
Product rating:
Taste: 9/10 (Pineapple & Green Apple)
Performance: 9/10
Value: 8.5/10 ($1.17 per serve)
Overall: 8.8/10
For more supplement reviews and fitness blogs visit Pump Fiction.