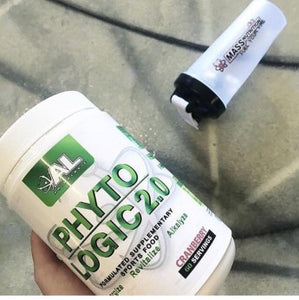 Phytologic
Have you tried Amino Logic Phytologic??!
If not here is why you should start!!
Phytologic 2.0 is a ridiculously good tasting flavour packed full of goodness to;
Detoxify- Phytologic works to cleanse the major organs in the body responsible for cleansing the blood and entire system (liver, kidneys all the way down to a cellular level where ingredients like chlorella and spirulina work to rid cells of environmental pollutants such as petro-chemicals and heavy metals
Energise-Helps to buffer pH and reduce inflammation
Revitalise-Contains a full spectrum of multivitamins to help prevent nutrient deficiencies.
Reduce Stress- Contains adaptogen's to help overcome stress
Alkalize- Phytologic is packed with dense alkaline ingredients
Good source of EFA's
Contains high antioxidant fruit and vegetable powders
Non-GMO ingredients
Vegan friendly
Organic ingredients
Ingredients:  
Greens Superfood Blend (Spirulina, barley Grass, wheat grass, alfalfa grass, chlorella powder),    
Super Fruit Blend (Acai berry powder, noni fruit powder, Amla fruit powder, Mangosteen fruit powder, Goji berry powder, Acerola berry powder, strawberry fruit powder, Blueberry fruit powder, Maquie berry powder, Pomegranate juice powder, carica papaya fruit powder, cranberry fruit powder, rosehip powder, Bilberry fruit powder,  
Omega fibre blend (Inulin, chia seed powder, flaxseed meal, Pea protein isolate, 
Vitamin & Mineral blend (Calcium phosphate, magnesium phosphate, ascorbic acid, vitamin E, ferrous sulphate, zinc sulphate, nicotinamide, manganese sulphate, vitamin A acetate, copper sulphate, vitamin B12, Vitamin D, Vitamin B6, pantothenic acid, vitamin B2, vitamin B1, chromium chloride, sodium molybdite, potassium iodine, folic acid, sodium selenite, biotin,   Lecithin powder, Natural flavours, Maca root powder, carrot powder, citric acid, beetroot powder, natural sweetener (thaumatin, Green tea powder, kelp powder, Ashwagandah powder, Olive leaf powder, Licorice root powder, Sarsparilla powder, Siberian ginseng powder, St Mary's thistle powder, Astragalus root powder, Elderberry powder, Horsetail herb powder, Echinacea purpurea root powder, Hawthorne berry powder, Lemon balm powder, Ginger root powder, Dandelion leaf powder
Pop in-store or online to grab yours today!