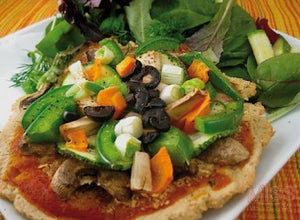 Pizza For One Recipe
Ingredients
28 g oats (100 cals) or 40g oats (150 cals)
1 egg white (I have used a whole egg before with success using the 40g oats)
1 tbsp water
1/4 tsp baking powder
1/2 - 1 tsp italian herb mix or basil etc
Directions
1. Mix all ingredients in a small mixing bowl
2. Preheat pan and spray lightly with coconut oil
3. Once pan is hot pour mixture into pan and flatten into round shape
4. After 2 minutes, flip and cook a further two minutes.\
5. Remove pizza crust frompan and add toppings.