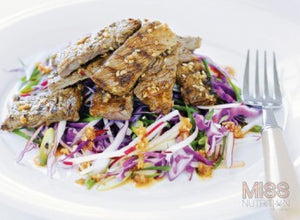 Sesame Beef Stir-Fry Recipe
Ingredients
2 portions brown or black rice (about ½ cup uncooked)
2 portions lean ground sirloin (about 250gm)
1 Tbsp. toasted sesame oil
3 cloves garlic, minced
3-4 green onions, sliced
1 cup broccoli slaw (found in produce department)
1 cup red cabbage, shredded
1 Tbsp. lite gluten free soy sauce (low sodium)
Crushed red pepper flakes, to taste
Directions
1. Prepare brown or black rice according to its package.
2. While the rice is cooking, in a medium skillet or wok, brown the ground beef over medium heat until no longer pink.
3. Remove the beef from the skillet, drain and set aside.
4. Heat sesame oil in the skillet over medium-high heat.
5. Add garlic and green onions; stir-fry for 2 minutes.
6. Add the broccoli slaw and cabbage; stir-fry for 2 minutes.
7. Add rice and soy sauce; stir-fry for 2 more minutes.
8. Return the ground beef to the skillet with the rice and vegetables and season with red pepper flakes, to taste.
9. Stir until well mixed and heated through.
10. Divide into 2 portions and enjoy!