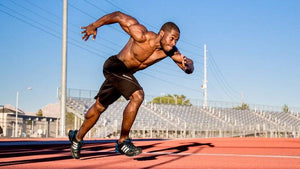 Bye Steady State, Hello Interval Training
TRADE STEADY-STATE CARDIO FOR INTERVAL TRAINING

The road to a leaner body isn't a long, slow march. It's bursts of high-intensity effort paired with slower, recovery efforts. Fifteen to 20 minutes of interval training performed like this can burn as many calories as an hour of traditional, steady-state cardio. And unlike the slow stuff, intervals can keep your body burning long after the workout ends.
But wait, don't confuse interval training with circuit training. Circuit training is moving from station to station to complete a set of exercises. Circuit training can be all aerobic exercise, all strength training, or alternating between cardio efforts and strength training. "Many people mistakenly call this interval training when, in fact, it is a circuit," Crews says.
When you're circuit training, you don't rest between the exercises that you do in sequence. When you're interval training, you want to take short rests between intense repetitions of a single exercise.
How Interval Training Helps
Adding interval training to your fitness program has both mental and physical benefits:

You lose weight faster. The more vigorous your exercise, the more calories you will burn, so even short bursts will help you lose weight.

It eliminates boredom. By varying the intensity of your exercises, it changes things up. Not only will your fitness program go by faster, but you won't experience the drudgery that can come from doing the same routine every day.
References:

https://www.everydayhealth.com/fitness/benefits-of-interval-training.aspx
http://fr.finspi.com/photo/20-best-fitness-tips-to-build-muscles-and-burn-fat-1762156
Photo: https://www.bodybuilding.com/content/high-intensity-interval-training-the-ultimate-guide.html