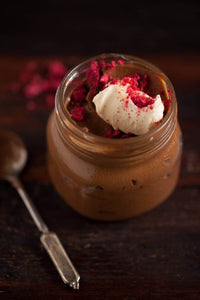 The Ultimate Chocolate Dessert
THE ULIMATE CHOCOLATE DESSERT

INGREDIENTS 
2 ripe avocados, skin and stone removed
60 g (2 oz / 1/2 cup) cacao
125 ml (4 fl oz / ½ cup) organic maple syrup
125 ml (4 fl oz / 1/2 cup) coconut cream
60 ml (2 fl oz / ¼ cup) cold-pressed coconut oil
1 teaspoon vanilla bean extract
Pinch of sea salt
METHOD
Combine avocado, cacao, maple syrup, coconut cream, coconut oil, vanilla and sea salt.
Blend until smooth and creamy.
Divide into serving glasses or Kliner glass serving jars.
Refrigerate for 2 – 3 hours to chill completely or enjoy immediately if you can't wait that long.
Decorate with whipped coconut cream or mascarpone, then garnish with freeze-dried raspberries.
Enjoy the ultimate chocolate indulgence.