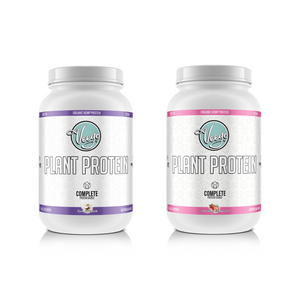 Veego - Plant Protein
Looking for a plant-based protein that actually tastes as good as it works? Three words: Veego Plant Protein. 
Features
All raw and natural

Dairy-free and gluten-free 

Contains 24g of organic protein

Supports muscle recovery and growth

Easy to digest

Smooth and creamy texture 
Benefits
Containing Organic Golden Pea Isolate, Organic Hemp and Organic Coconut MCT, Veego Plant Protein is a 100% plant-based, gluten-free and dairy-free product made from carefully handpicked ingredients designed to put your body first. 
Wondering what makes this formula so special? Veego Plant Protein contains Organic Golden Pea Isolate to deliver a naturally hypoallergenic vegan-friendly, gluten-free and dairy-free protein source. Secondly, Organic Hemp has been added due to its rich Omega 3 and Omega 6 content that promotes energy production and supports immune function. Plus, did we mention it's one of the highest quality vegan sources of protein? Additionally, Organic Coconut MCT has been added to the mix to help keep you fuller for longer, while helping to increase energy and calorie burning by converting into ketones (which are chemicals your liver produces to create energy). The cherry on top? Four mouth-watering flavours that offer the perfect smooth and creamy consistency to keep your insides nourished and your taste buds happy 
Summary
Containing 24g of easy to digest plant-based protein and a delicious range of flavours, Veego Plant Protein is the ultimate 100% gluten-free, dairy-free and all-natural formula designed to put your goals and taste buds first.