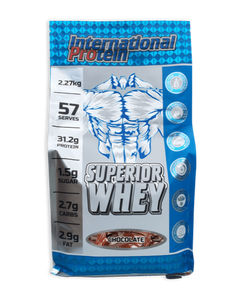 Whey Protein Isolate – highest protein, lowest fat, naturally high in bioactive peptides for muscle tissue synthesis.
Whey Protein Concentrate – natural immune fractions, anti-oxidants and growth factors. 
Whey Peptides – ultra rapid absorption and enhanced muscle recovery.
Natural Fermented L-Glutamine – produced from rice without the use of chemicals so there are no toxic residues; only pure, clean L-Glutamine for recovery and immune function.
No Aspartame – sweetened with sucralose for a pleasant taste and no unwanted compounds.
No Fillers or Stabilisers – just high quality protein available for your body to digest at the rate it is meant to.  Why pay for whey protein and then slow the absorption with gums and fillers?
Easily Digested – quality whey proteins for rapid and efficient digestion.  NO vegetable gums or soy proteins, so it won't leave you feeling bloated. 
No Gluten – no cheap glutamine peptides derived from hydrolysed wheat or low quality wheat proteins making it suitable for coeliacs and people with wheat allergies.
100% Great Taste – delicious flavours with no unpleasant aftertaste.
No Added Sugars – the only sugars in the product are naturally occurring from the Whey Proteins.
No Artificial Flavours – all the great taste you want without the use of artificial flavours. 
Easy Mixing – just add water or milk and shake.  Mixes quickly and easily into a delicious shake without the need for a blender.
NUTRITIONAL INFORMATION*
Servings per Bag:  57 (2.27kg 114 (4.55kg
Serving Size:  40g

 

Per 40g Serve

Per 100g

Energy

685 kJ
164 Cal

1711 kJ
409 Cal

Protein

31.2 g

78 g

Fat – Total
      -  Saturated

2.9 g
1.8 g

7.2 g
4.6 g

Carbohydrates  - Total
                         - Sugars

- Lactose

2.7 g
1.5 g

1.2 g

6.8 g
3.8 g

3.1 g

Dietary Fibre

0.3 g

0.7 g

Sodium

75 mg

185 mg

Potassium

265 mg

660 mg

Calcium

145 mg (18% RDI

365 mg