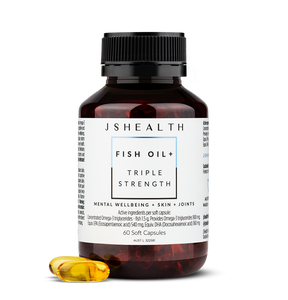 Support general, mental and physical health with the Fish Oil+ Triple Strength formula, which is always sustainably-sourced and heavy metal tested. This is the easiest fish oil to take, with no fishy aftertaste, thanks to its light vanilla scent and flavouring
MENTAL WELLBEING: Fish Oil supports general health and wellbeing, while also supporting emotional wellbeing. Fish Oil also supports cognitive/mental function, brain function and general mental wellbeing.
SKIN: Fish Oil contains omega-3s, which relieve symptoms of mild eczema and dermatitis and maintain/support skin health.
JOINTS: Fish Oil relieves inflammation, mild joint pain, soreness and stiffness. It supports eye health and healthy cholesterol. Fish Oil also supports heart health and the function of the cardiovascular system.