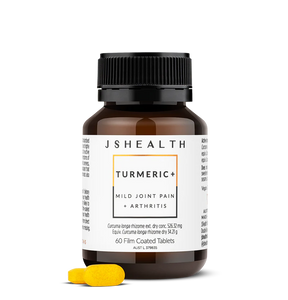 Description: Turmeric + Formula - 60 Film Coated Tablets
Vegan. Gluten-Free. GMO-Free. Aus Made.
Turmeric + contains standardised Curcumin C3 Complex, which is a highly studied and highly regarded Turmeric extract in research. Curcuminoids, the active component of Turmeric, decrease and relieve the symptoms of mild arthritis, such as mild joint pains, joint pain and soreness, and joint inflammation. Curcuminoids are an antioxidant that reduces free radicals formed in the body. Curcuminoids also support general health and wellbeing.