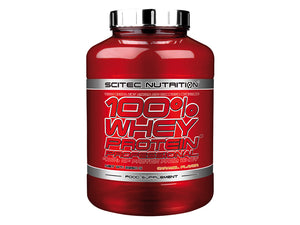 Product information:
Whey Protein Professional is an excellent quality whey protein blend with whey concentrate and whey isolate. Dietary proteins are the source of nitrogen and indispensable amino acids, which the body requires for tissue growth and maintenance. Therefore 100% Whey Protein Professional contributes to the growth and maintenance of muscle mass, and also to the maintenance of normal bones*.
Whey protein from milk is a so-called complete protein, because it provides the body with all the necessary types of amino acids, including the 9 amino acids the body cannot synthesize and must be supplied by the diet (i.e. Histidine, Isoleucine, Leucine, Lysine, Methionine, Phenylalanine, Threonine, Tryptophan, Valine). 100% Whey Protein Professional has more added components: an "Amino Acid Matrix" that provides popular extra amino acids, namely L-Leucine, L-Glutamine and Taurine. Also, the digestive enzyme blend of Papain and Bromelain is included in our formula! Aspartame free formula! *These statements have been scientifically proven and authorized by the European Food Safety Authority.
Allergen info: Made from milk. Manufactured in a facility that processes soy and egg proteins, and gluten, peanuts!
Supplement Facts
Serving size: 30 g (approximately 1 level scoop)
Amount per serving
RDA%*
Calories
117
 
Calories from Fat
14
 
 
Total Fat
1,5 g
†
Saturated Fat
1 g
†
Cholesterol
26 mg
†
Sodium
43 mg
†
Potassium
133 mg
7%
Total Carbohydrate
3.8 g
†
Sugars
1.5 g
†
Dietary Fiber
0 g
†
Protein
22 g
†
 
Amino Acid Matrix
1336 mg
†
(pure Taurine, L-Leucine, L-Glutamine, Dextrose)
Digestive Enzyme Blend
25 mg
†
(Bromelain, Papain) *RDA%: Percent of the Recommended Daily Allowance. † RDA not established in the EU.
Typical amino acid profile/serving
L-Alanine
1102 mg
L-Arginine*
535 mg
L-Aspartic Acid
2290 mg
L-Cysteine
620 mg
L-Glutamine
4410 mg
Glycine
385 mg
L-Histidine*
373 mg
L-Isoleucine*
1410 mg
L-Leucine*
2385 mg
L-Lysine*
2240 mg
L-Methionine*
482 mg
L-Phenylalanine*
670 mg
L-Proline
1270 mg
L-Serine
1120 mg
Taurine
255 mg
L-Threonine*
1442 mg
L-Thrytophan*
382 mg
L-Tyrosine
710 mg
L-Valine*
1304 mg
*Essential Amino Acids