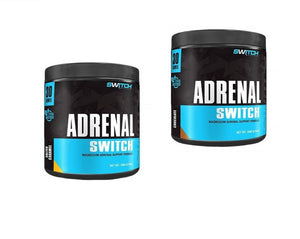 ADRENAL SWITCH™ is designed to SWITCH OFF your stress and SWITCH ON your recovery with the perfect combination of standardised Ashwagandha extract, highly bio-available Magnesium, Zinc, B6 and L-Theanine to regulate cortisol, increase strength and much more.
Recovery is paramount after every training or exercise session. If you are not optimising recovery, then you will never achieve your best results. At SWITCH NUTRITION™, we set out to develop the perfect adrenal formula by combining the above key nutrients with L-Leucine to SWITCH ON protein synthesis (muscle repair) and L-Glycine to SWITCH OFF muscle breakdown.
ADRENAL SWITCH™ contains ZERO artificial colours or sweeteners.
With over 75% of our population magnesium deficient, it's time to flick the SWITCH and maximise fat burning, muscle building and recovery with ADRENAL SWITCH™.