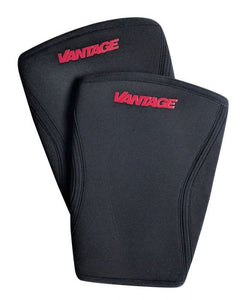 Vantage Strength Knee Sleeves are the ultimate in performance, support, and knee protection. Made from 5mm premium grade Neoprene and reinforced with Four-thread Ultra-stretch stitching. Vantage Strength Knee Sleeves provide maximum joint support, protection, compression, and warmth, whilst allowing flexibility and comfortable movement.
Ideal for squats, deadlifts and powerlifting, also great for CrossFit and any other strength sports and strength training where maximum knee support and protection is required.
Key Features
Premium grade 5mm Neoprene.
Maximum joint support and warmth.
Durable, comfortable and flexible.
Four-thread Ultra-stretch stitching.
Sold in Pairs.
SIZING CHART
Measure the circumference of your knee around the centre of your patella.
EXTRA SMALL 24cm - 28cm
SMALL 29cm - 32cm
MEDIUM 33cm - 36cm
LARGE 37cm - 40cm
EXTRA LARGE 41cm - 46cm